Full Bio of Spin Twix (Casino Streamer)
In which casinos does Spin Twix play?
Watching streams allows gaining new skills and improving the quality of gambling. Quite frequently, streamers do not mind sharing their tactics and teaching newbies how to gamble wisely. Thus, gambling streaming channels are popular among viewers. Here, we're going to talk about one of the most outstanding broadcasters. Spintwix streams quite frequently, so you always opt for live streaming. If there are gamblers, watch cuts of major highlighted and interesting events during the stream. The blogger often plays
Plinko
,
Dice
and various other games.
WHO IS SPINTWIX?
Spintwix
is a dedicated steamer from the Netherlands. His real name is Roy Nelson. This mature player started his streaming career in 2019. Over just 3 years, he has managed to become a popular gambling broadcaster with an audience of fans being over 25 thousand followers. Currently, the broadcaster streams almost daily, except Wednesday. Streaming hours are different and specified on his official website. Usually, he broadcasts from 5.30 p.m. to 9 p.m. But on Mondays and Fridays, streaming hours are shifted to be from 9.30 a.m. to 1.30 p.m. He's active and open to viewers and does not mind communicating and answering questions during game sessions. That is why his broadcasts are watched by thousands of players from all corners of the world. The gambler is a co-partner of the CasinoRing community launched together with his friend. When they developed this project, friends strived for the idea of creating a gambling platform for players and by players.
WEBSITE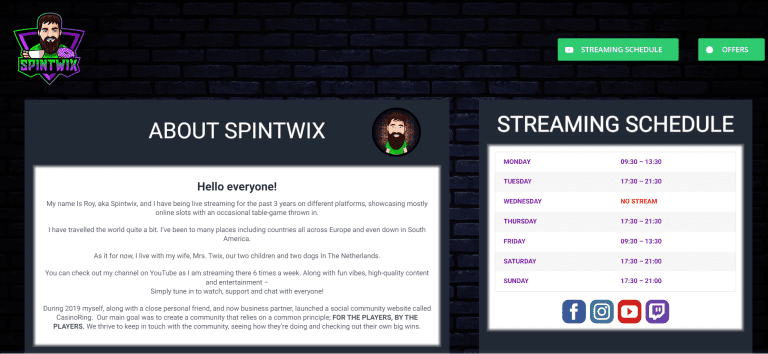 In addition, the player also has his own website. You can check it here
www.spintwix.com
. Here, the streaming schedule is specified. In the "Offers" section, the gambler reviews the offered bonuses and wagers. Visitors can find a list of affiliated casinos and exclusive promo codes. Since Twitch frequently bans the Spintwix account, the gambler sometimes arranges broadcasts via Discord. This is another popular platform for streaming, where gamblers can create channels and closed communities. Usually, Roy informs about bans and temporary switches to Discord via Twitter.
NET WORTH
Spintwix is ranked the 90th most-watched streamers on Twitch. His regular activity attracts viewers. For the broadcaster, this means regular profit. Although the player does not give public details about
Spintwix net worth
, it is possible to calculate and approximate revenues. So, let's see how much the gambler earns. His income is comprised of the following points:
donations, subscriptions, and sponsorship on Twitch;
monetization on YouTube;
affiliation with online casinos;
Let's analyze each point in particular to calculate the
Spintwix net worth.
Twitch is the main portal for streaming. Broadcasters gain money through the following means:
Twitch pays for views. Here, the rate is 20 euros per 100 views. Usually, Spintwix's streams are watched by about 1,500,000 users. So, the gambler gets over 312,000 euros on views.
Donations of viewers during streams. Spintwix gets a minimum of 3 euros for greeting a fan. About 10-20 euros are donated to send a question to Roy. Yet, viewers are usually generous and donate up to 100-200 euros to support the player during game sessions. So, an average estimate shows that his earnings on donations from one stream reach 1,000 euros. Considering that the gambler broadcasts 6 times per week. He gains about 6,000 euros per week. The monthly worth comes to be 24,000 euros per month.
Subscriptions are another share of revenues on Twitch. Several types of subscriptions are offered on the platform. The range of functionalities differs, depending on the type of subscription. Streamers get 70% of the subscription cost of their followers.
YouTube pays for views of monetized videos. The rate is 18 euros per 1,000 views. Spintwix's videos are viewed by 5,840,000 users on average. So, if we calculate, it turns out that he earns 105,300 euros. Additionally, the player affiliates online casinos he plays at. So, they also pay for mentioning their names during streams. Roy likes to play at Casumo, LeoVegas, Rizk, and Rapid casinos. Finally, all wins during game sessions belong to him. So, an approximate estimate of net revenues from the streaming and gambling activities is about 517,634 euros. Although other broadcasters can gain more, this sum is enough for Roy to live a happy life.
5 BIGGEST WINS
The gambler plays slots and card games. But slot machines are considered the main direction of his gambling activity. He does not have a clear favorite among software developers and prefers to try games with high RTPs. Although he is not a high roller, he likes to play high-dispersion slots, and the most insane jackpots were hit on such games.
65,630 euros on the Chaos Crew by Hacksaw Gaming

Note that the biggest and the most epic win was gained off-stream. The gambler played Chaos Crew and won $65,630 multiplying his bet by 6,563x. The article about this win was posted on the CasinoRing website. This is a high-volatility slot with an RTP of 96.3%, 5 reels, and 15 paylines. The bet range is between 0.2-100 euros. Roy betted 10 euros. The game is styled like comics. The game session was rather long. The first spins were not very fruitful, and the gambler was about to leave the slot. Yet, luck turned to him from the middle of the gameplay.

23,448 euros on the White Rabbit Megaways by BTG

This is a high-dispersion game with an RTP of 97,72%. The Megaways mechanics are used here, so the number of paylines reaches 248832, while the playing field is 5×7. Here, Roy played with his friend David. The game session dated back to February 2019. The accepted bet range was 0.1-20 euros, and guys entered the game with a 5-euro bet. They won 15 free spins during one of the first rounds. Yet, the game session was rather long and lasted for almost 20 minutes. The first 5 minutes brought them just 1,653 euros. Later, they won another set of 9 extra spins. During the game, they won up to 6,570 euros, but the last 3 spins were extremely favorable and generous so they managed to multiply their bet by 4,689x.

17,082 euros on the Donuts slot by BTG

Donuts is a high-volatility game with an RTP of 96.54%. 2401 paylines are generated on just 4 reels. The bet range is rather small and varies between 0.05 and 10 euros. Another Spintwix big win was gained on this slot in August 2018. The streamer entered the game with a 7,5-euro bet. After a few spins, the player won a series of 12 free spins with an x69 multiplier. The first spins were rather modest, but the 6th spin brought a huge prize. Roy won 16,000 euros in just one spin. The rest of the game brought him another 1,082 euros. Thus, he multiplied his initial bet of 7,5 euros by 2227x. The reaction of the gambler proved that the winning was really insane for him. He was surprised and impressed. This jackpot encouraged him, but as a wise gambler, he left the game with his reward.

16,245 euros on the Rick and Morty Megaways slot by Blueprint

This slot is also characterized by high dispersion and an RTP of 96.55%. 117649 paylines are designed in the game due to the application of Megaways mechanics. The playing ground is 6×7. The bet range varies from 0.1 to 10 euros. Yet, Roy betted 5 euros. He got 20 free spins but managed to win just several euros. The game was not very profitable. The player was disappointed. But then, one of the final spins turned out to bring sudden fortune. The gambler hit 15,845 in one spin, multiplying the bet by 6.094x. He was surprised and impressed, just like all his fans.

3,567 euros on the Big Bass Splash by Reel Kingdom

Here's another high-volatility game with an RTP of 95.67%. The game offers just 10 paylines on 5 reels with the bet range of 0.1-250 euros. Yet, Roy decided to try it. He betted just 2,7 euros. The pace of the game was rather moderate and plain. The beginning of the game didn't bring a lot of money. On the contrary, the second part of the gameplay was more fruitful. He started to win big sums like 500+ euros after the 8th-10th spins. As a result, he multiplied his bet by 1,320x. Although the winning was not huge, the player was happy and excited. As you see, Roy gained all the most epic wins in high-dispersion slot machines, which shows that he's rather risky to play such games. Yet, he manages to stay in the black. It is worth noting that Spintwix always plays for real money and does not cheat its viewers. Accordingly, he calmly withdraws all the money won and uses them in everyday life. For replenishment, the blogger often uses cryptocurrency, for example:
PERSONAL LIFE
Roy is open to his fans and does not try to hide his private life. His Instagram profile is devoted to his everyday activity. There, he posts photos and videos from trips and travels, uploads content from celebrations and how he has fun with friends, tells about his hobbies, and shows his house and the place he lives in. As for his family, it is a big one. He's married to Mrs. Twix. They have two children and two dogs. Although guys travel a lot, they live in the Netherlands. He loves his family and frequently posts photos with his wife. The streamer dedicates a lot of attention to traveling. This is one of his main hobbies. He's been to numerous countries, including many European, South American, and North American states.
RUMORS
Many ill-wishers claim that the gambler uses fake money during game sessions to promote online casinos and affiliate partnering platforms to gain more clients. However,
Spintwix fake
money is a myth. In fact, the player uses real money, and his game sessions are not staged. He's not a high roller and usually bets 5 euros or about this sum. Another common rumor is concerned with bans. Some people constantly claim that
Spintwix banned
his accounts and stopped streaming. However, this is not true as well. The thing is that Spintwix's account on Twitch has been banned several times due to different reasons. Once, it was even the system's fault. The account was blocked after 2 years of streaming activity and gathering an audience of over 20 thousand fans. The reason for the ban was the distribution of malicious content (spyware, viruses, phishing sites). This occurred due to the changes in the Twitch Privacy Policy regarding affiliated links. Yet, Roy didn't know about it and was punished. The gambler was disappointed and decided to create alternative accounts on other broadcasting networks that seem to be more reputable and reliable. Nowadays, his Twitch account is active, but the player also has channels on YouTube and Discord.
SUMMARY
Spintwix is a popular online casino streamer from the Netherlands. Although his broadcasting career totals just several years, he has a great army of fans who like watching his broadcasts and cheering for the gambler. One of the features of his streams is constant contact with viewers and active chatting with them. Thus, the player tells some tips and reveals tactics that can help newbies to pump their gambling experiences. Generally, the streamer is open to its fans. His Instagram page is dedicated to his private life where he is not afraid of sharing his photos with his wife, family, friends, and pets. His openness and friendliness buy over. These features act in favor of his career and determine his popularity. His revenues from the gambling and streaming career are enough to live a happy and diverse life, travel, and enjoy life.
FAQ
The streamer is from the Netherlands.
The player has been engaged in gambling activity for about 10 years. He dedicated the last 3 years to streaming. Nowadays, gambling and steaming are the main sources of income for the player. Donations on Twitch, monetization on YouTube, and winnings from games make up a good profit.
The exact age of the broadcaster is not specified anywhere. He looks to be about 35 years old.
Roy Nelson acts under the "Spintwix" nickname.
The exact height of the streamer is not specified anywhere. However, the player is quite tall. His height is about 6.56 feet.