Full Bio of Roshtein (Casino Streamer)
In which casinos does Roshtein play?
Roshtein
is a famous casino streamer and gambler. Practically nothing is known about Roshtein's childhood and family, so in this context, the guy's life is behind a veil of secrecy. But one thing is for sure – the home country of the streamer is Sweden, and the city where he spent his childhood is Stockholm. He is of mixed ethnicity. Roshtein definitely has Turkish, Swedish and German roots. At the same time, some claim that he is partly Jewish because of his distinctive surname. His year of birth, indicated on the official website, corresponds to 1988. But you can find out about the date of birth only from some Internet sources (March 5). Nothing is known for certain about the Roshtein family: the public doesn't know the names of his parents, and also whether he has brothers or sisters. The real name and surname of the guy is Ismael Swartz. Roshtein is a pseudonym that the man apparently chose in honor of the legendary gambling player Arnold Rothstein, who was a legendary mobster of the 20th century. It's not known about the Roshtein's education and qualification. Only one information is available: Roshtein adored gambling, and in 2015 he began publishing the first recordings of streams, and in 2016 he began to meet other gamers stars and gain a fan base. The risk did not frighten him, and this approach led a showman to the largest win at the time of 2022 in the game «Wanted Dead or A Wild» ($18.700.00). Celebrity still fondly recalls the times when he broadcast his first translations from a cozy bedroom in Sweden. Roshtein has a bright charisma. This is what allows him to attract so many viewers. He's acting like some kind of rock star. At the same time, he remains positive and treats all members of the community with respect. Humor, charm, high sociability and ease of communication clearly help him to collect many subscribers. Although it is impossible not to note a somewhat defiant behavior for show and so much drama. Of course, the appearance of the guy – it's distinguished by uniqueness and authenticity. Long black hair and a hat (sometimes a baseball cap) have become invariable attributes of the attire. The style is most often dominated by total black, glamorous jeans, T-shirts and biker jackets. There are also those who criticize Roshtein for shopping addiction and unreasonably expensive purchases. The man's personality is so odious that it collects a lot of rumors on the web.
WHO IS ROSHTEIN?
Israel Swartz decided to turn his favorite hobby – casino gaming – into a job, starting publishing his streams in 2015. Initially, only a few people watched the celebrity's streams, but over time the number of fans increased. Roshtein loves his job so much that he very rarely rests and goes on vacation. It can take up to 10 hours per day for a player to record a broadcast. But it is not only the devotion of the fans that helps him to continue his activity, but also a huge excitement and adrenaline. Therefore, many users have a question:
who is Roshtein?
Is he a real lucky guy or an ordinary fraudster? Despite the crowds of fans, there are people who still consider Roshtein a crook. For doubters, on the official website of the celebrity in the «Achievements» tab, you can find information that the largest monetary loss in the history of streams is considered to be $7,500,000, which occurred on October 31, 2021. However, on the platform of the Play-n-Go provider, viewers once saw that the balance on the gamer's demo account didn't match the real earnings. And then many people had doubts, while some even suggested that the money for the reels was not real and the streamer was sponsored. Roshtein has been fond of video games since childhood, and now he has moved into gambling streaming. His favorite models are
Plinko
, Book Of Ra and others. Also, the blogger often streams
Dice
and other entertainment on his channel. With his passion and love for live broadcasts, the resulting content is of the highest quality and interesting, which allowed Israel Swartz to become one of the most successful people in its category.
WEBSITE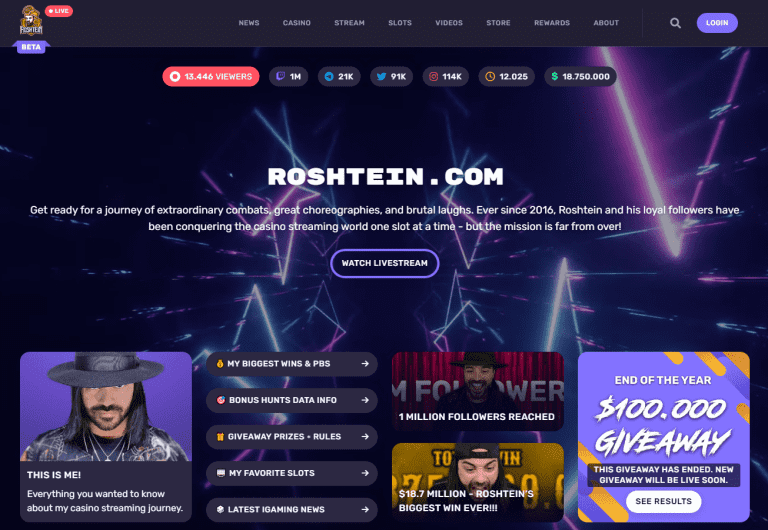 Official website roshtein.com is not only shows such information as the achievements that make up
Roshtein net worth,
but also offers to get acquainted with other interesting data. The resource provides a full biography of the streamer and gives contact information, using which you can establish cooperation with the guy. By visiting the Store, followers can buy souvenirs, subscriptions to streaming services, cash prizes (in cryptocurrency) and even technics. But to do this, you need to collect points (with the help of views on Twitch). Participants can view the rating in a special field. All draws are held online. Enthusiastic gamers can view statistics of the best slots, game ratings, releases and reviews.
You can also see the list of featured providers. Subscribers are also offered:
find out the statistics in the Bonus Hunt game and the current account;
get VIP raffles;
buy bonuses;
participate in tournaments;
count achievements;
find out which of the slots are the best at FOTW (Farm of the Week);
watch funny videos;
learn basic information and terms on an online casino.
In addition to all this, users can find out the broadcast schedule, read useful articles about gambling and, of course, get updates from the life of their favorite streamer
5 BIGGEST WINS
Roshtein spends monthly streams of the week recording its best games from Bonus Hunt (multiplier slots). However, his official website contains information about Roshtein biggest wins. Among them:
$18.750.000 – ×12,500 in the «Wanted Dead or A Wild» (01/07/2022)

$17.550.000 – ×11,700 in the «Wanted Dead or A Wild» (30/03/2022)

$16.673.250 – ×11,115.5 in the «Wanted Dead or A Wild» (09.02.2022)

$10.000.000 – ×10,000 in the «Bowery Boys» (08/06/2022)

$10.000.000 – ×20,000 in the «Barn Festival» (30/06/2022)
Among the best Roshtein slots by multipliers there are:
€106.744 – ×35.581,33 «El Paso Gunfight» (NoLimit City) (04/05/2021)

$93.454 – ×23.363,5 «San Quentin xWays» (17/09/2021)

$10.000.000 – ×20.000 «Barn Festival» (30/06/2022)

$54.707 – ×18.235,67 «Tombstone Rip» (18/01/2022)

$1.522.660 – ×15.226,6 «Mystery Museum» (14/05/2022)
5 Roshtein biggest wins in Bonus Hunt are:
$10M (#750 – 27/07/2022)

$7.6M (#753 – 31/07/2022)

$5M (#751 – 28/07/2022)

$2,5M (#749 – 26/07/2022)

$5M (#755 – 02/08/2022)
Also, on the official website of Roshtein, current achievements are published monthly, so you can easily search by year and summarize your own statistics. For example, in August 2022, the streamer distinguished himself in such slots as:
Gladiator Legends (with $1.500 bet and ×2.449,2) – $3.673.800 (07/08/2022)

Wanted Dead or A Wild (with $1.500 and ×1.710,1) –$2.565.150 (07/08/2022)

Toshi Video Club (with $1.500 bet and ×1.468) – $2.202.000 (03/08/2022)

Wanted Dead or A Wild (with $1.500 bet and ×1.183,3) – $1.774.950 (05/08/2022)
Roshtein not only wins, but also breaks its own records. Obviously, his most successful game is Wanted Dead or A Wild (Hacksaw Gaming). But on February 9, 2022, he decided to keep up with previous achievements and again won a truly large sum of money. He was lucky again in spinning the reels when all 5 sections showed the same symbol. And the coefficient ranged from 3 to 5. There was even a coefficient equal to 20. Do not forget that the streamer plays for real money. Otherwise, the effect of what is happening would be simulated. Roshtein often uses cryptocurrencies (BTC, ETH, USDT, BNB, DOGE or LTC) as payment methods.
PERSONAL LIFE
Most of the streamer's life is devoted to work and video recording. Therefore, it can be concluded that the guy doesn't have a lot of free time to build a personal life. Due to his busy schedule, he rarely sees his family, relatives and friends. Although some claim that a man is dating a girl. However, her identity is carefully hidden, as the streamer doesn't like to cover the details of their relationship. The guy loves to travel very much, and he is happy to share photos from his trips with subscribers, while being against the background of desert landscapes or enjoying the sea breeze right while on a yacht. Moreover, the streamer visits not only the northern countries (for example, Finland), but also warm places like Abu Dhabi. A trip to Italy left warm memories. The guy has a pet – a dog named Sia, on which he dotes. However, a streamer prefers to leave his companion at home in the care of his friends or relatives. Roshtein also keeps in touch with people from his area. For example, his close friend is streamer Jay (or DeuceAce from Twitch). Roshtein also keeps in touch with such streamers as FrankDimes and VonDice. The celeb's hobby list includes:
Photography;
Reading;
Training;
Internet surfing.
The star doesn't adhere to any diet and is not a vegetarian. Playing the game «The Dog House» users involuntarily think about a Roshtein house tour. The celebrity posts a lot of photos from trips, showing various locations, ranging from luxury hotels to small cozy bungalows. His permanent home is obviously made in Scandinavian style with large panoramic windows. Roshtein, judging by the photo from the Instagram, can drive a car and swim. Also, social networks show that the celebrity tried kayaking. The proximity to the sea coast and the beauty of the resort makes Ismael often spend his free time in yacht clubs. In view of the many rumors that revolve around the person of Roshtein, the streamer even agreed on Twitter to answer all the questions and asked to write them all down in the comments.
RUMORS
Roshtein, due to its eccentricity, is an interesting character to discuss. On Tuesday, August 17, 2021, his Twitch account was unexpectedly blocked. The social network tends to close the pages of users who had the temerity to violate the rules of using the service. The blocking occurred right during the live broadcast, which caused a storm of indignation, and people began to write on Twitter with comments of bewilderment. Subsequently, many were interested in why was
Roshtein banned.
But the official reasons have not been named. It is believed that the streamer violated the new policy of Twitch, which began the fight against spam, casino advertising and numerous referral links in the profile. Many were afraid that user blocking is forever. But soon the profile was again available to the audience. Therefore, some people believe that it was just a technical glitch. Similar cases have occurred before. For example, on August 18, 2019, Roshtein was blocked for spam mailing and violation in the publication of content. But on the same day, everything was fixed. And on August 21, 2018, the streamer's page was blocked for 24 hours due to the presence of erotic content (Israel took off his T-shirt at some point). In 2018, a series of casino streamers blockages began on YouTube. The Roshtein channel also fell under the distribution. But later the account was restored. It is not known exactly what the sanction was connected with, since YouTube didn't comment on this. However, many believe that the problem was in the new service algorithms, so it could be a mistake.
SUMMARY
Roshtein aka Israel Swartz is an example of a fanatical attitude to work and hobbies. It is his bright and fascinating streams, reactions to wins and losses, that makes thousands of players follow him around the world. And although his first videos were not of high quality, over time his creations improved, which led the guy to worldwide fame. And, of course, in addition to this, Roshtein earned a fortune. The moment of 2016-2017, according to Roshtein himself, was the most difficult. The streamer wanted to quit everything and start an ordinary professional path. But the support of others allowed him to stay afloat. Meanwhile, the guy carefully protects his personal life from prying eyes. This is somewhat paradoxical, since by nature Roshtein is an open person, and he enjoys communicating with subscribers on various social networks (although some platforms, for example Telegram, are run by his assistants). The official celebrity website is a real storehouse of opportunities and entertainment. The videos that are posted on the resource have the following specifics:
funny moments;
live games;
big wins;
the latest highlights;
past broadcasts;
YouTube playlists.
The man does not forget about his subscribers either – the schedule of giveaways and store raffles is presented on a special tab. Sometimes the algorithm selects random users so that Roshtein can give them a part of his winnings. In the Telegram, there are giveaways that always are held for fans. Roshtein also likes the Discord, which is a kind of platform for communication between gamers. There you can also find links to online casino. Due to gambling content, only people over the age of 18 can get into the chat, through the special invitation link. The streamer constantly sets mind-blowing records, wildly rejoicing during the recording of the broadcast (his style of play is another reason that attracts indefatigable gamblers to his content). The first Roshtein million win is considered to be the «Wanted Dead or A Wild slot» (01/07/2022) with $18,750,000. He achieved this during the «Duel» round. The rates for winning then ranged from 3,5,8 to 20. Needless to say, this event definitely got into the legends of gambling. Twitch was bursting with a flurry of congratulations, and Roshtein couldn't believe his success. The most interesting thing is that the victory occurred at the very beginning of the recording, which is amazing, because the streamer sometimes has to spend precious hours of his life to win an average amount of money. As you know, the longest stream is dated by August 19-20, 2021. Its duration is about 25 hours in non-stop mode.
faq
In view of the many rumors that revolve around the person of Roshtein, once on Twitter, the streamer agreed to answer all the questions that bother fans. However, there is a list of the frequently asked questions, the answers to which are not always easy to find on the Internet.
Roshtein's hometown is Stockholm in far northern Sweden. But speaking about the nationality of the guy, he has rich roots – Swedish, German and Turkish blood flows in the streamer's veins. But at the moment a guy works from Malta, since the legislation of this country allows you to obtain a gambling license.
There are several ways by which Roshtein earns his living. And these are not casino winnings, as you might think at first. Most of the income comes from the influencer deals, aimed at attracting new gambling players, affiliate links, bonuses, donations, paid subscriptions, as well as monetization of YouTube channel.
In the official Roshtein profile, the year of his birth is listed as 1988. Devoted fans also know that the guy celebrates his birthday every year on March 5. And you can even say happy birthday to him. So, at the time of 2022, the man is 34 years old.
The real name given to the streamer Roshtein at birth is Israel, which is of Arabic, Spanish and Hebrew origins. The official surname of the blogger is Swartz, which was formed from German. The spelling of the name / surname varies in some sources. For example, there is the spelling as Ishmael Schwartz.
Roshtein has a pretty attractive and bright look. The thin bone structure also makes it seem like the celebrity looks visually taller. But the real height of Roshtein is impressive – people who communicate with a guy estimate it at about 6ft 2 in (6 ft 1 inch according to some information).